Today was the last day for students in our district.  One of my 7th graders plodded into our room, plopped heavily into his seat and moaned,  "I can't believe it's our last day to dance with a pen…"  Come to find out, he, like me, thought the school year flew by and was not quite prepared for the end.  The good news was he realized that one of the many joys of writing is that it never has to stop, it's portable, travels well, and only needs a stub of a pencil and a napkin to be done just about anywhere.
So today is about looking back, celebrating the amazing bits, contemplating how to make the bad bits better, but mostly reflecting on what an amazing job we teachers get to have.  This year 119 pre-adolescents came into my life.  They could not have been more different from one another but entering that magical world of reading and writing made us seem very much like family by the end (OK – dysfunctional family but still…) and I will miss them terribly.  I want so much for them to continue to grow as readers and writers but I don't get to be a part of that anymore.  My difference-making ended today and that makes me sad.  This is a group I would love to nourish until they are grown and tell me to go away.
We found out today that one of my students will be published in the Northern Virginia Writing Project's Falling for the Book anthology in the fall.  He wrote a poem called 'I Am Who I Am'.  He was lucky to be in a class of students who celebrated every step of the way for each other, nudging, applauding, pushing each other as writers and then stepping back and saying, "Yeah, we DID that!"  He did not come to me as a writer.  His community of writers helped him to become one and today they stamped and cheered when they heard the news.  Because, yeah, we were part of that, too.
Many of the students completed an end of year reflection about their growth as readers.  The responses were so interesting to me, mostly because I was surprised by both the honesty and the depth of thought.    Here's one from Hudson answering; What reading strategies do you use to help you comprehend while you are reading?  "
"I stop and try to understand what the character is feeling or thinking, and I think about what the character's main goal is.  I also try to layer events so I understand what's going on in different places [in the story]. 
Layer events?  He's 12 and already surpassed me in his complexity as a reader! Amazing!
Lexi read 12 books last year.  This year she read 124.  When I asked her why she said, "I didn't know there were so many amazing books out there!"  Now she knows her favorite genres; fantasy and mystery as well as favorite authors; Erin Hunter and Norah McClintock.  She came to know those authors and genres from her classmates.  Their influence changed her life because now she gets to be a reader…forever.
Bijan, a struggling reader still, listed one of the things he does best as a reader; 'reflect it on real life'. When I asked him what that meant he said he is able to connect what is happening in his book to real life.  He wasn't able to do this until he read, Al Capone Does My Shirts by Gennifer Choldenko. He loved that book and read it 3 times this year.  Every time he reread it, he was practicing his reflection strategy. Now he considers that strategy a strength.  Does he love reading?  No.  But when a struggling reader can describe his strengths as clearly as Bijan can, he is moving closer to becoming a real reader.
Annable wrote about her favorite authors, J.K. Rowling and Tracy Chevalier;
"…they write so fluidly like a soft river of words."  I wrote back,  "They're not the only ones!"
Madison responded to the question; Which writing strategy…helped you the most as a writer this year?
"Getting rid of the judge [the grumpy old man who sits on your shoulder telling you that your writing isn't good enough, etc.] because by the time I was finished correcting myself I would forget the idea I had before."  Amen, sister!
To Which writing project should be a 'must' for next year's students?  Emily wrote,
"Golden lines [finding beautiful examples of language in our books or poems] because it made you look for them and find them EVERYWHERE!"
That's a bell that can't be unwrung.  Emily will be finding examples of beautiful figurative language for years to come.  Better yet, she wants to be sure that next year's students get to find those examples, too.  That chain of golden lines reaches forward and back.
Logan answered the question, What do you know about yourself as a writer that you did not know before this year?
'That I could really get into writing things that interest me."
I made him promise to tell his English teacher that next year when she tries to make him write to a prompt.  Perhaps he can teach her what being a writer really means.  If anyone can do it, he can.
And finally, back to Bijan, answering the same question as Logan;
"It [writing] is not awful!"  
Hey – 'not awful' is a step up from awful, right?  We take our progress any way we can around here.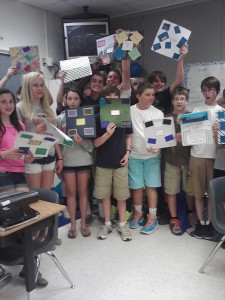 Here are my students displaying their 'Success Scrapbook Page".  They had to think of 5 moments over the course of the year when they felt successful as a reader or a writer.  This is what I want them to remember about their 7th grade year, not a score on a high stakes test.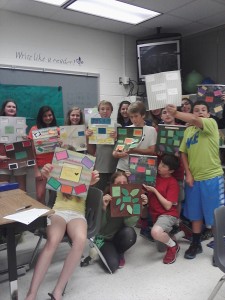 That number will never tell them who they are.  That number is for the state, not for them.
  Thanks for a great year, cherubs – I learned a lot.
Let the dancing pens and book count begin again.